Home Prices in 20 U.S. Cities Rise at Fastest Pace Since 2014
Bloomberg.com, March‎ ‎28‎, ‎2017‎ ‎6‎:‎00‎ ‎AM‎ ‎PDT , by Michelle Jamrisko
Home prices in 20 U.S. cities climbed in the 12 months through January at the fastest pace since July 2014, while nationwide the increase in property values also accelerated, according to S&P CoreLogic Case-Shiller data reported Tuesday.
Key Points
20-city property values index rose 5.7 percent from January 2016 (forecast was 5.6 percent) after increasing 5.5 percent in the year through December
National home-price gauge increased 5.9 percent in the 12 months through January
Seasonally adjusted 20-city index advanced 0.9 percent from a month earlier (forecast was 0.7 percent)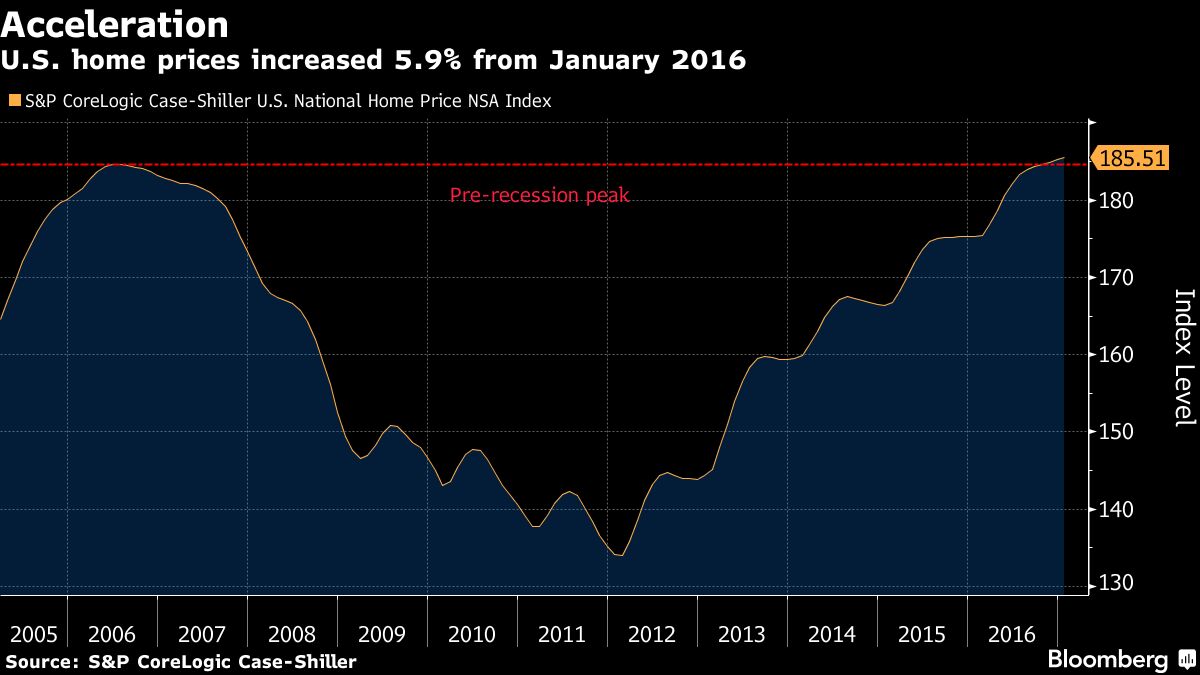 Big Picture
Lean housing inventory helps explain why home prices are appreciating at more than twice the rate of inflation and wage growth, an impediment to an even bigger advance in housing demand. That's making it difficult for some Americans to transition from renter to homeowner, a reason investors remain a big part of the market as they purchase properties and convert them to rental units.
Economist Takeaways
"Tight supplies and rising prices may be deterring some people from trading up to a larger house, further aggravating supplies because fewer people are selling their homes," David Blitzer, chairman of the S&P index committee, said in a statement. "The prices also hurt affordability as higher prices and mortgage rates shrink the number of households that can afford to buy at current price levels."
The Details
All 20 cities in the index showed year-over-year gains, led by an 11.3 percent advance in Seattle and a 9.7 percent increase in Portland, Oregon
After seasonal adjustment, Seattle had the biggest month-over-month rise at 1.7 percent, followed by a 1.3 percent increase in Chicago; home prices fell 0.1 percent in Cleveland